Why Brides are Following this New Trend in 2022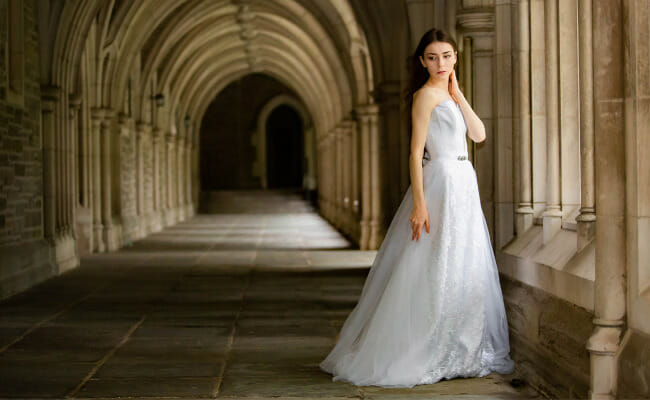 Out with the old, in with the new trend: beautiful black wedding dresses! This clothing makes you stand out because it is chic and creates a statement. Black wedding dresses are stunning, unique, dramatic, and distinctive.
Black was once considered a sad color, connected with a spooky celebration or hallow's eve. In addition, people also incorporate it into ill omens, darkness, and mortality. In today's world, however, such superstitions have faded. This color has become one of the favorite colors for an occasion, a party, or even marriage ceremonies. It's popular because of its beauty and formal appearance. It's a stylish alternative to spotless White.
Black wedding dresses and black-themed marriage ceremonies have become increasingly popular. Brides who choose these black wedding dresses want to make a statement. They desire to break tradition and go for a more modern style. These beautiful black wedding dresses are unconventional and reflect the bride's unique personality and flair.
Women who want a bold, sensual, sleek, and classy style prefer this hue. We'll take inspiration from the history of the black wedding dress. Also, we will tackle different kinds of black wedding dresses and the meaning of this color.
Brief History of the White Wedding Dress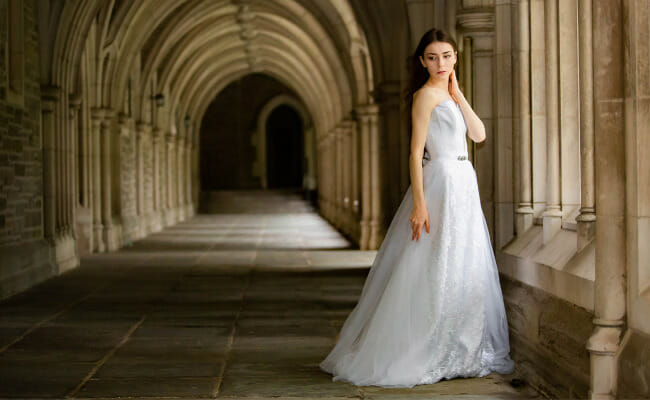 A wedding dress is the most magnificent garment a woman will ever wear. When a wedding dress occurs in a film or television show, it always marks a significant transformation for the characters involved. It also means significant changes in real life!
However, you are generally incorrect if you believe wedding gowns are an age-old trend with centuries of history behind them. The majority of the current bridal gown trends are also totally new. Take a peek at the history of bridal dresses, and you'll be shocked at how contemporary these magnificent garments are.
Early Times – 1840
This decade truly defined the modern Western bridal gown. Brides in the contemporary Western world are increasingly wearing white dresses on their wedding days. This style is attributable to one woman's white bridal gown: Queen Victoria. Brides from around the Western world sought to replicate the new Queen of England's white bridal gown when she married Prince Albert in 1840.
Queen Victoria's White Wedding Dress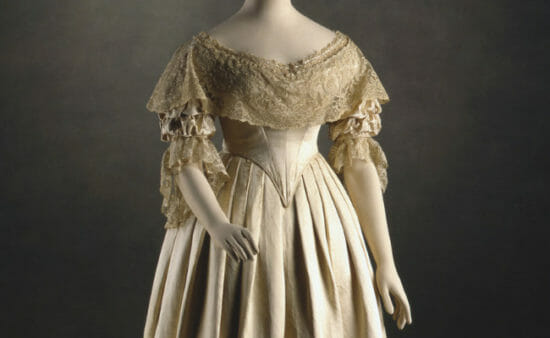 The beautiful white wedding gown worn by Queen Victoria was decorated with orange flower flowers. It was a trendy dress at the time, fashioned in the most up-to-date way. It had a form-fitting bodice covering the Queen's figure and a large, voluminous skirt accentuated even more by petticoats. The dress was incredibly stunning and extravagant, but Queen Victoria's wedding dress was a very functional and simple gown.
In the past, royal brides utilized their dresses to flaunt their wealth, with several royal brides exhibiting a plethora of gems sewn directly into the gown. Despite being a very affluent bride, Queen Victoria chose a much simpler dress in comparison. Accessories such as flowers and lace rather than gemstones adorned her outfit. The plain wedding dress set the globe on fire.
The Legacy of the White Wedding Dress
Women's publications praised the white bridal gown as the appearance of preference for brides in 1849. Queen Victoria's colossal ball dress silhouette is still a favorite bridal dress beautiful choice today. This attire has never gone out of style for brides and continues to inspire contemporary trends. Victoria was indeed the inspiration and the Queen of wedding trendsetters.
Difference between a white and a black wedding dresses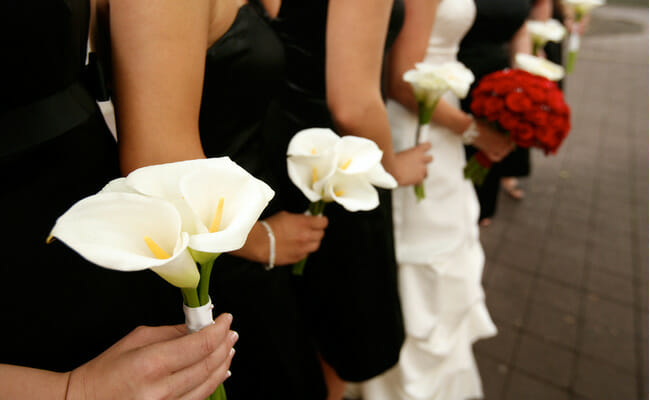 To comprehend the significance of a black wedding gown, we must contrast it with a traditional white dress.
Conventional white clothing represents the traditional values associated with women. Some would claim that some of these are obsolete in today's world. Among them are:
Purity
Innocence
Chastity
Virginity
Light
Goodness
Flexibility
Submissiveness
A black dress, on the other hand, connotes a variety of ideas:
Confidence
Independence
Strength
Courage
Individuality
Power
Sensibilities of today
Until death, devotion
Understated Elegance
Mysteriousness
Thoughtfulness
Loyalty
Neither of these hues is proper or incorrect, but a non-white wedding dress is popular among modern ladies who want to break the pattern—the most avant-garde among these chooses black.
Meaning of black wedding dresses
Black is frequently thought to be a strange hue for a bride. However, black wedding dresses have arrived and will remain. Black is also a hue associated with dignities, such as black-tie-only occasions and black evening dresses. Power, sexiness, sophistication, formality, money, mystery, depth, and, above all, sheer personal style are all associated with black.
Black represents power, mystery, strength, elegance, formality, and refinement. It's an empowering color for ladies. That is why it is frequently the perfect choice for influential ladies.
The bride's words are carried out on her big day, including her wish to be clothed in a black wedding dress. Although she chooses the color for her dress for personal reasons, there are specific historical associations with this color.
A bride who wants to defy popular convention can wear a black gown instead of the traditional bridal colors of white, cream, or champagne.
Women in Spain are expected to wear black dresses to represent their commitment to the groom till death.
Ladies who want their wedding to be remembered for all the right reasons should select a black wedding dress that will stand out.
The black hue conveys independence and confidence when it comes to wedding dresses.
A black wedding dress could suit the wedding's ambiance or season, such as Halloween weddings, or give respect for a recent death in the family.
Black is the most popular hue among the goth set. Thus, ladies who identify as goth may use it to suit their lifestyle.
Why are black dresses trending today?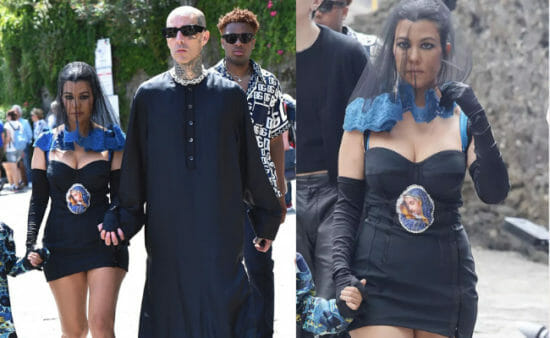 Black wedding dresses are fashionable today among women who wish to put on something different yet still look strong. They are stylish and are associated with sensuality, power, mystery, and intellect. Here are some of the celebrities who wore black wedding dresses:
1. Kourtney Kardashian
Kourtney's Dolce & Gabbana gown, which she was spotted wearing while walking in Portofino, Italy, ahead of her European wedding to Travis Barker, was from the fashion house's 1998 collection and featured a fitted bodice with a snap-up slit in the front. She wore it with a simple black sandal, long black gloves, and a black veil with blue lace at the bottom.
2. Jessica Parker
From Jessica Parker's wedding ceremony in 1997, an increased fashion in the black was born. Jessica wore a Black dress to her wedding with Matthew Broderick. She was the first modern lady to wear black for a stylish wedding celebration.
Designers were taken aback by how much they appreciated the aesthetic. Why hadn't anyone invited it before? Fashion designers and modelers began to develop collections that quickly became popular.
3. Christine Quinn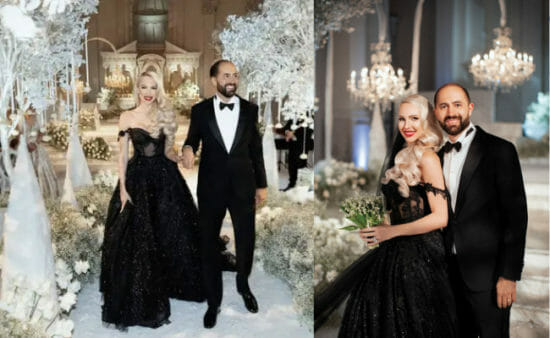 Christine Quinn of Selling Sunset married in secret. Quinn wore two black wedding dresses for her wedding in 2020. She chose two custom black Galia Lahav couture dresses for her Gothic winter wonderland wedding. Christine donned black and collaborated with Galia Lahav, a wedding designer, to create two custom black couture dresses for the ceremony and reception.
4. Shenae Beech (née Grimes)
In May 2013, Shenae Beech (née Grimes) of "90210" chose a Vera Wang gown from the designer's fall 2012 line for her marriage ceremony in 2013. She married musician Josh Beech in a black wedding dress in England.
Vera Wang's Fall 2012 wedding line included the minimal halter-neck "Josephine" dress, which boasted a vast multi-tonal tulle skirt. She pulled her hair in a bun and held a bunch of red blossoms to balance out her dark complexion.
5. Avril Lavigne
Avril Lavigne married Chad Kroeger in a rock 'n' roll ceremony in France in July 2013. The bride chose a black Monique Lhuillier dress with a tulle skirt, and he donned a black suit with a black tie for the wedding.
Different Styles of Elegant Black Wedding Dresses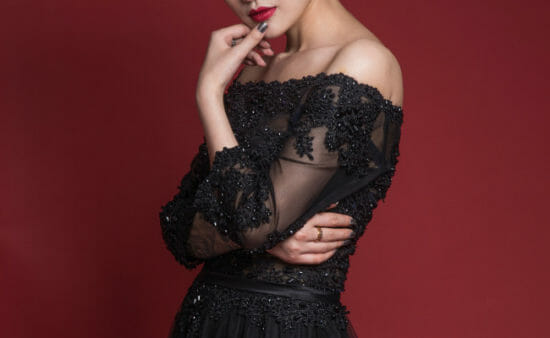 Black and White Wedding Dress
If you don't like to wear a lot of blacks, add a few black accessories to your traditional white attire. Hang more flowers, lace or bands, and delicate items on an ornate black décor.
Select a bridal dress with a black belt, braid, or bow. Another option for conservative brides is to choose a white dress with black embellishments. Find a practical black belt or order a smutty-colored veil and bow to go with the outfit.
Black Lace Wedding Dresses
Black lace bridal gowns were once considered exceptional options. They were shocking and unique, yet they were fashionable simultaneously. These black lace gowns are one-of-a-kind.
It shows little difference if you go for a trumpet, a ballroom, or a close-fitting mermaid gown. You can be confident that the delicate lace will provide it with a romantic feel. Also, wearing it in black will make it much more memorable. Lace gowns are still popular among brides worldwide for a reason!
A-line and Ball Gown Black Wedding Dresses
Wear enticing A-line silhouettes alone, or cover those dress patterns with extravagant ball dresses. It's undeniable that black absorbs light and slims the waistline. Make a statement and appear youthful in this gown.
Did you know that the black hue has long been connected with luxury, status, permanence, and luxury? Only aristocratic people in Rome and Venice had the right to wear it during their weddings. That guideline also applied to lovely black bridesmaid gowns. All of their public appearances were an inspiration and particularly dramatic.
Elegant Black Wedding Dresses with Sleeves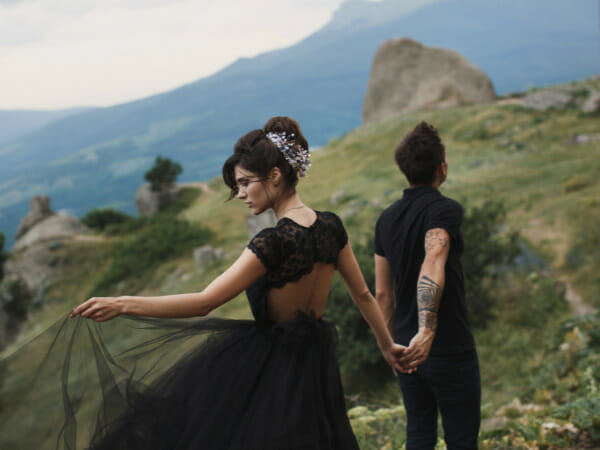 Black bridal gowns with long sleeves have become fashionable in recent years. These bridal gowns are ideal for a bride who values tradition and elegance. They are luxurious, yet not excessive. Long sleeves provide sparkle to a wedding and are perfect for spring, autumn, or winter wedding.
Simple Elegant Black Wedding Dresses
Simple black gowns are exquisite. You can search for a vast selection of inexpensive black bridal gowns. The dresses themselves will not be costly, but the variety of unique elements will.
You may get a dress for under $500 and add some fun embellishments. Even if the dark wedding gown is stunning on its own, it will be enhanced with fascinating decorations. What are your interests? Think about it, whether it's an excellent mantle or a headpiece.
Gothic Black Wedding Dress
"Themed marriage ceremonies" have become increasingly popular in recent years. Such a wedding appears to be much more lovely and engaging. Choosing a gothic wedding does not imply that the occasion will be gloomy or unpleasant.
There are no precise guidelines for Gothic wedding gowns. Every girl has her preferences. Surprise your guests by keeping your wedding distinct and unforgettable.
Elegant Black Wedding dresses with Edgy Elegance
Looking for the best sleek wedding dress is very difficult. If you are in a rush and you like to have a ready-made black wedding dress, here are some top picks: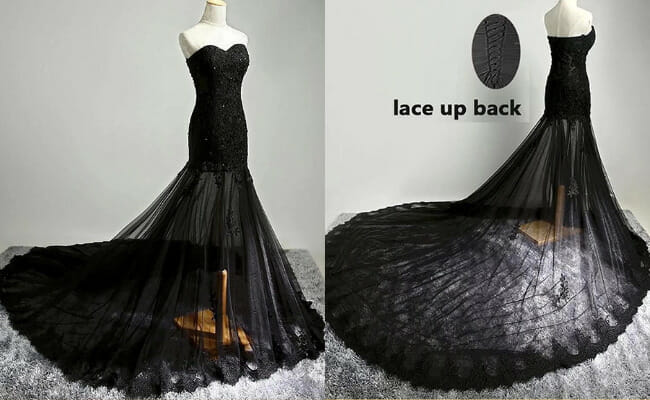 This Gothic Vintage tulle wedding dress is chic and a popular choice. If you are on a search for a sleek and stylish black wedding dress, this outfit will make a statement for you. Tulle and Satin are the soft fabrics used. The sweetheart strapless dress details are made of laces and beads. You can also request that the seller perfectly customize it for you for free. It also has a long trail.
This tulle wedding dress makes you appear to be in a fairy tale. It will transform you into a princess. Furthermore, the designer used light fabrics, ideal for Chic Boho Weddings. The top of the dress has a see-through material. Also, there are 2-3 layers of tulle at the bottom. Pair it with lovely jewelry and high-heeled shoes.
The wedding dress is very flattering because it is stretchable. It does not have long sleeves. You can use it without a bra since it has paddings. The length is good with or without heels. The drape of the skirt is very sleek and has more flair than other dresses.
This black dress is highly stretchable and will suit you if you have body curves. Polyester and spandex are the materials used. You may also use it on a variety of occasions.
This black wedding dress was made with excellent craftsmanship. The details have a lace-up back and an elastic clasp. Before purchasing, double-check your body measurements. As a result, you can select the right size and length.
Conclusion
Dreamy and filtered colors will be the trend for 2022 wedding dresses. We are going beyond the nudes and blushes we've grown accustomed to in the past. There will be pale blues, silvers, and deep champagnes. They've come to flatter and delight both whimsical and unconventional brides.
Whichever color or style you choose, make sure that what matters most is the romantic marriage itself. Also, plan earlier, so you do not have to worry about searching for a suitable dress for your wedding. Wearing beautiful black wedding dresses will also make you stand out from everyone. Do not hesitate to use this hue for your wedding dress since it is unique and creates a bold statement.
Subscribe to our newsletters! Get updates right into your inbox